ROLL TIDE FOR MIKEY
by TideGP (follow me on Twitter @TideGP)
EMail: checkyourgut@gmail.com
Football Saturdays are back in the South. Fans are making the transition from analyzing recruits, depth charts and early practices to actually seeing how their team performs on the field. In Alabama, fans have dusted off their game day swag and are making plans with family and friends for the trip to Bryant Denny Stadium for tailgating or planning parties at home to watch the game.
For one fan, things are a little different this Saturday. Little Mikey, who, through the effort of family and friends on Twitter, has touched the hearts and minds of the Bama Nation is fighting for his young life. Doctors say it's not a fight he's going to win.
When you talk with Mikey's step-father, Terry, you can tell by the tone of his voice just how special Mikey is. MIkey's five, and always wanted to play football. When Terry asked him if he was going to catch, run, or throw the football, Mikey's response was always "Throw it!". They would play in the yard and Mikey would line up, give his "Hut-HUT!" and run plays against imaginary defenders. When it wasn't football, Mikey loved bowling so long as he didn't have to use the bumpers the lanes set up for kids. Fiercely independent, Mikey wanted to do it on his own, without help. That's why it was pretty obvious when things started to change for Mikey.
January this year, Mikey was diagnosed with a brain tumor, and underwent six weeks of radiation treatment in an effort to shrink the tumor. Initially the results were positive, Mikey had several good months including a chance to go to Disney thanks to the Make-A-Wish Foundation.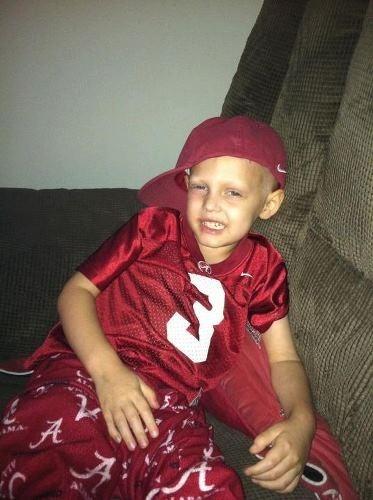 Last Saturday, Mikey, was watching the Crimson Tide season opener on TV, wearing his own #3 Alabama jersey and pajamas. He got to see his Alabama dominate Michigan for a half before he told his parents he was tired and was ready to go to bed. Terry noticed he was stumbling a bit on the way to his bedroom, but when he checked on him later, Mikey was already asleep, with a movie playing on his TV.
Sunday morning it became apparent things weren't going well. Mikey was complaining of having a headache, having issues walking and Terry noticed he couldn't lift his left arm. They took Mikey back to Vanderbilt Children's Hospital to learn that the swelling around the tumor in Mikey's brain was starting to affect his motor skills. Mikey received treatment to reduce the swelling, but his motor skills continued to decline to the point that he could no longer speak and his pain meds had to be increased. Mikey's parents thought they were going to lose him that night.
The bright spot of the week came when some family and friends began spreading the word about Mikey on Facebook and Twitter. The phone number for the hospital was given out asking that any Alabama players that saw it give Mikey a call.
The Tide responded.
Mikey started receiving calls from players, past and present, and his parents could tell he could hear what was going on because he began to perk up. Calls from Barrett Jones, Carson Tinker, Prince Wimbley and his jersey's namesake Vince Sunseri all seemed to give Mikey strength and boost his will to fight. Vinnie dedicated his season to Mikey. Coach Saban called and spoke to Mikey's mom as she lay in bed next to him, and Terry said Coach Saban's voice was so powerful they could all hear him in the room. Mikey definitely heard it too, though the only way they could tell was by his heart monitor as it jumped from 110 beats/minute to 130.
The Bama Nation responded too. Bama fans and non-Bama fans alike spread the word to keep Mikey in thoughts and prayers. Others took it a step further sending gifts, making calls, and one Bama dad arranged to have a digital billboard in Huntsville give Mikey a special message up in lights — "Hey Mikey… Roll Tide!!!" along with the Twitter hashtag #RollTide4Mikey. He said, "I felt the need to help, and that is how I could".
So today, while we are all watching Alabama battle Western Kentucky, take a moment to think about Mikey. Mikey might not be on the sidelines, but you know he's there in spirit. All while he's fighting his own battle from his hospital bed. Please keep him and his family in your thoughts and prayers, and say a ROLL TIDE for Mikey.
Update: 9/9/12 — More billboards around Tuscaloosa were dedicated to Mikey, several Tide players wrote #RollTide4Mikey on their armbands. Bama won the game 35-0, and Mikey is still hanging on. Please continue to give him your prayers.
ROLL TIDE MIKEY!